Chiropractic Care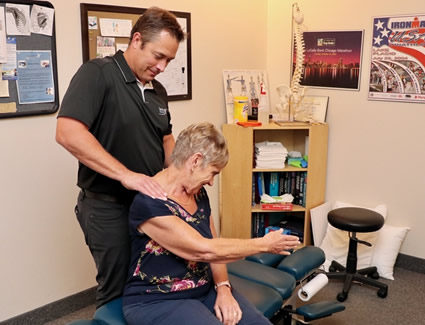 Chiropractors are trained in addressing orthopedic, neurological and musculoskeletal conditions. We use a variety of techniques including hands on, instrument-based methods and drop piece tables to make your adjustment as comfortable as possible. As a part of your care, we may prescribe specific exercises to help you heal.
The many conditions we often see include
Headaches
Neck Pain
Nerve entrapments
Sports injury
Active Release Techniques®
We provide ART®, an advanced way to address tendons, ligaments, muscles, nerves and fascia. It breaks up scar tissue and reduces tension in contracted tissues. The many problems it treats include
Carpal tunnel syndrome
Plantar fasciitis
Tendonitis
Tennis elbow/golfer's elbow
Our practitioners continue to study ART to maintain their certification in this technique, ensuring you get the best possible care.
Our Additional Therapies
There is a range of therapies we may use as a part of your care with us.
Low-Level Laser Therapy
Low-level laser therapy, or LLLT, uses the power of light. It is utilized to stimulate your tissue metabolism while increasing cell growth, oxygenation and tissue healing. LLLT treats pain associated with nerve injuries, soft tissue injuries and joint injuries. It is non-invasive, drug-free and will reduce your pain and inflammation levels.
Shockwave Therapy
Shockwave therapy uses acoustic waves to trigger effects that will lead to quick, long-term healing. It allows the tissues in the area of pain to regenerate and covers a wide range of different concerns.
Medical Acupuncture
Acupuncture is used for acute and chronic forms of pain. It stimulates pain-relieving chemicals in the body, promotes blood flow and enhances your healing. It can be used as an adjunct to chiropractic, massage or physiotherapy.
Electric Modalities
TENS, interferential current, ultrasound and Russian stim are electric modalities that reduce pain, boost your blood flow and promote your overall healing. They're utilized as an adjunct to treatment.
Custom Orthotics
With custom-made orthotics, you can get the structural correction you need to align and support all the joints of the foot. All of ours are designed by our certified pedorthist. You'll experience reduced pain and better motion in the foot, ankle, knee, hip and back.
Custom Bracing
When you wear a brace, you won't have to worry about harmful motions or reduced range of motion in your joints. Braces can be custom-fitted for your ankle, knee, wrist or elbow, addressing sprains, carpal tunnel syndrome, tennis/golfer's elbow and other injuries.
SpiderTech Kinesio Taping
This cotton athletic tape is non-medicated and hypoallergenic. It has the same thickness and elasticity as human skin, as well as being waterproof, breathable and lasting for days. When applied, it reduces inflammation and pain while promoting proper movement and static posture.

Chiropractic Care | (519) 884-4848