About Us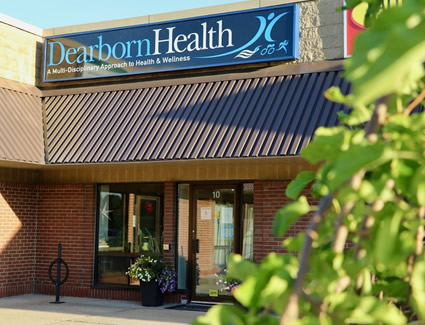 Dearborn Health was established in 2001. Our chiropractors Dr. Chris Kraemer and Dr. Paul Brown were the sole practitioners at the time, building up the office and our patient base. Originally from rural communities outside of Kitchener, Dr. Brown and Dr. Kraemer chose our neighborhood for the practice based on its central location. Since then, the office has changed places in our shopping plaza to better accommodate our growing staff and patient base.
Today, we have more than 7000 square feet dedicated to our health and wellness centre. The options for your care we provide include chiropractic, physiotherapy, massage therapy, personal training, orthotics, pedorthic services and fitness classes.
Easily Accessible From the Entire Area
Dearborn Health is centrally located yet outside of the downtown core, where you run into excess traffic. You can easily reach us from any area of the city. Get here by bus, rail or take your own car and park in our spacious, free lot. Seniors and people with injuries appreciate that they can park close to the office and don't have to worry about navigating stairs.
Discover Our Array of Solutions
You might be surprised to learn that there are many options that we can choose from in addressing your unique concerns. Even if you're a chiropractic patient, you don't' have to have a traditional, hands-on adjustment if you're not comfortable with it. We've treated an array of common musculoskeletal conditions using modalities such as Active Release Technique® (ART®).
With ART, we can address the soft tissue component of joint-related injuries, leading to quicker and more favorable outcomes. Our chiropractors have been using ART for more than 25 years, back when people would travel for hours to find a practitioner of ART. With such powerful solutions available, we can be sure to find what will work for your condition and individual preferences.
MEET THE TEAM »
We Love the Feel-Good Moments
There's no greater privilege than sharing in the success of our patients. We've helped athletes get ready to compete at IRONMAN® World Championships. Our practitioners have been on the team for professional-grade and local events for hockey, golf and more. It's our passion to help you get back to your active life!
Contact Us Today
Call or email our team now to set up your first appointment! We have same-day visits available.

About Dearborn Health | (519) 884-4848