Medical Acupuncture & Dry Needling at Dearborn Health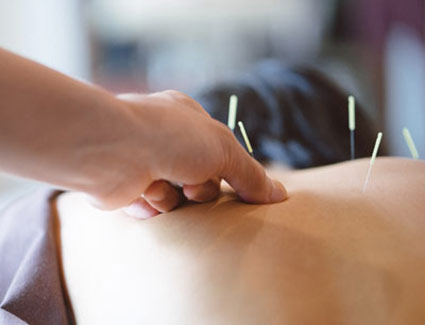 Are you looking for an effective way to relieve pain and tension in your body? Look no further than medical acupuncture and dry needling! At Dearborn Health, we offer this unique therapy that's designed to bridge the gap between traditional Chinese medicine and contemporary medicine, to provide the best of both worlds.
What are Medical Acupuncture & Dry Needling?
Traditional Chinese acupuncture focuses on energy regulation and flow through the body, while medical acupuncture is all about finding tension areas or trigger points in the body to help relax tissues. We use this technique to access the nervous system through the needle, with less emphasis on traditional Chinese medicine. Medical acupuncture is not only limited to treating energy deficits, but also addresses ankle sprains, knee injuries, inflammation, TMJ, and trigger points in muscles.
Our doctor uses very thin gauge needles that are so thin, many patients do not feel any discomfort during the procedure. These needles are like the size of a hair from somebody's head and do not have any hole in the middle, making them much thinner than the typical needles used for shots.
Success Stories
We have found dry needling to be successful in treating several conditions. Patients with ankle and knee sprains have found relief when dry needling is used in conjunction with exercise therapy to get them back play sports fast! It triggers an immune response to help reduce inflammation, which is our initial goal. This allows the person to get back moving and exercising much faster.
For office workers who sit at a desk all day, dry needling has been the answer to the chronic tension in their neck and upper trapezius. The therapy provides pain relief and relaxation in the trigger points.
Schedule a Visit
Medical acupuncture and dry needling are both excellent standalone procedures and, in conjunction with other therapies, help alleviate pain and tension in the body. Book a visit today to experience the benefits.
CONTACT US »

Medical Acupuncture & Dry Needling Waterloo ON | (519) 884-4848