Laser Therapy at Dearborn Health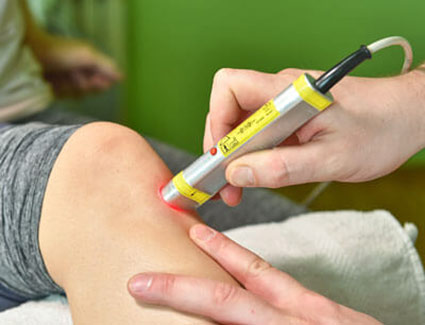 Are you struggling with superficial injuries like scar tissue healing, tendinitis, plantar fasciitis, or bursitis? Do you want to enhance your healing process and reduce inflammation? Low Level Laser Therapy (LLLT) at Dearborn Health may be the solution you're looking for.
What is Low Level Laser Therapy?
Low Level Laster Therapy, or LLLT, is a red light device that produces energy to help tissues repair, grow, and reduce inflammation. By stimulating the cells with energy, it accelerates tissue regeneration, promotes cell proliferation of fibroblasts, endothelial cells, and lymphocytes to help with tissue repair, and increases anti-inflammatory effects.
Sometimes known as Cold Laser Therapy, as the emissions are not powerful enough to generate a thermal effect, this modality is helpful with scar tissue and wound healing, sprains and strains, wrist and
ankle injuries
, such as tendinitis, muscle spasms, and more.
How Does It Work?
LLLT is not a replacement for chiropractic care, but it may be an effective complement to adjustments, exercises, dry needling, acupuncture, massage therapy, and other modalities.
Working with the muscles instead of the bones, it's best for superficial injuries, where it stimulates cell proliferation to help with inflammation and tissue repair. It is not as effective for deeper joint injuries. It's also an excellent method to enhance scar healing.
Results You Can See
A recent patient came to Dearborn Health for post-surgical care after having an ACL and meniscus repair. He presented with scars over the knee and a lot of inflammation. Our doctor used LLLT over the top of the scars and inflammation a week after the surgery. The patient had much better range of motion increases, way less pain, and drastically improved scar healing and reduction of inflammation around those surgical wounds.
The patient was extremely pleased with the results, noting that although he had surgeries prior to this one, the healing times of his scars and inflammation were much better than those without laser therapy.
Heal Faster
Accelerate your healing and tissue regeneration with Low Level Laser Therapy. Book your visit now and experience the benefits of this natural therapy.
CONTACT US »

Laser Therapy Waterloo ON | (519) 884-4848