Meet Our Chiropractors
Our chiropractors are highly experienced and skilled. They provide natural chiropractic care that is customized to meet the needs of their patients.
Dr. Paul Brown, BSc, CSCS, DC
After earning an Honours Bachelor of Science degree at the University of Waterloo, Dr. Brown completed his Doctor of Chiropractic in Chicago, achieving Summa Cum Laude honours and graduating as class Salutatorian. He is a strong advocate of lifelong learning and employs an evidence-based approach to patient care.
Techniques Used
Dr. Brown favours functional assessments and rehab-based therapy, utilizing such techniques as the following:
Selective Functional Movement Assessment (SFMA)
Integrated Therapeutics
Diversified Chiropractic
Medical Acupuncture
Dynamic Neuromuscular Stabilization (DNS)
Active Release Techniques® (ART®)
He has a particular interest in sports and overuse injuries, tendinopathies, peripheral nerve entrapments and is heavily involved in the local concussion management scene.
Dr. Brown is a Lead Instructor of Active Release Techniques® (ART®) and is part of the Elite Provider Network, providing corporate ART® services to plants in Stratford and Georgetown. He has been the medical director at multiple international sporting events, including the ISC World Fastball Championships (2002, '06, '07, '14, '18) and the World Jiu-Jitsu Championships (2003).
Enjoying an Active Lifestyle
As a firm believer in maintaining an active, healthy lifestyle, Dr. Brown's athletic background includes fastball, football, rugby and karate, and he still actively enjoys hockey, golf, skiing, hiking and scuba diving-especially when he can include his wife and two daughters.
Dr. Brown is a founding partner of Dearborn Health and one of his core values is that health care should be a team approach with active involvement from the patient. He believes that our practice has been built around the collective expertise of its many exceptional practitioners. They look forward to the opportunity to be part of your health care team.

Dr. Chris Kraemer, BSc, CSCS, DC
Dr. Kraemer received his Bachelor of Science degree from the University of Waterloo and his Doctor of Chiropractic from the National College of Chiropractic in Lombard, Illinois, where graduated with Cum Laude honours.
Credentials and Therapies
He maintains credentials as a Chiropractor and Certified Strength and Conditioning Specialist and Active Release Techniques® (ART®) providing a wide variety of treatment options such as
Soft-tissue therapy
Diversified adjustments
Medical acupuncture
Movement-based rehab
Residing in Waterloo, Dr. Kraemer and wife Connie have four beautiful and athletic daughters following in their parent's footsteps. He has an extensive athletic background, having spent three seasons in the Ontario Hockey League split between Sault Ste. Mare, Belleville and Kitchener before moving on to play five seasons at the University of Waterloo with the Men's Warrior Hockey Program.
While a member of the Warrior team, Dr. Kraemer was an assistant captain on the '96 Queen's Cup Ontario Championship and National Finalist team. He continues to keep himself fit. Though he is not actively training or racing any longer, he is also a 16x Ironman Finisher and 4x Ironman Hawaii World Championship Qualifier and Finisher.
Outside the Practice
Dr. Kraemer's personal practice interests include sports medicine and the treatment of challenging athletic and work-related injuries. His extensive experience and knowledge gained both as an athlete and through education is helpful in his routine day of practice.
As a founding partner of Dearborn Health, Dr. Kraemer is extremely proud of the outstanding professional staff and their ongoing commitment to their patients' care and collaboration in the multi-disciplinary setting, which contribute to making Waterloo such a special place.

Dr. Adam Williamson, BA (Kin), DC
Dr. Williamson graduated from Wilfrid Laurier University with an honours degree in Kinesiology and then went on to study at the Canadian Memorial Chiropractic College in Toronto. Upon graduation in 2004, Dr.Williamson began a successful chiropractic practice in Waterloo, which he was able to integrate into the practice upon joining the team in 2006.
Memberships and Certifications
Dr. Williamson is a member of the Canadian Chiropractic Association, Ontario Chiropractic Association, and the College of Chiropractors of Ontario. He is actively involved in program and policy development for the profession's continued success. Dr. Williamson is a certified provider of Active Release Techniques® (ART®) and member of the Society of Weight-Training Injury Specialists (SWIS). In addition to ART® and the SWIS protocols, he utilizes Diversified Chiropractic Techniques and Instrument-Based Adjusting in his practice.
Read more about Dr. Williamson »
In his practice, Dr. Williamson enjoys working within a multidisciplinary clinic where all the needs of his patients can be met. He works closely with a wide variety of patient populations, including general wellness, seniors, recreational athletes, professional athletes, and Olympic athletes, to assist them in reaching their goals of optimal health and performance.
In His Spare Time
Dr. Williamson's personal interests include competing in triathlons, running, basketball, skiing, golf and coaching his kids' sports teams.

Dr. Eric Brubacher, BSc. (Hons. Kin) D.C.
Dr. Brubacher received his Bachelor of Science degree in Honours Kinesiology from the University of Waterloo while playing four years for the University of Waterloo Varsity Hockey Warriors and his Doctor of Chiropractic from the Canadian Memorial Chiropractic College in Toronto.
Professionally he has practised since 1985, including 25 years at a practice he started in Bolton, Ontario. Dr. Brubacher relocated to our practice to be close to family and his original home area. He has completed certification in Active Release Techniques® (A.R.T.).
Dr. Brubacher grew up in Elmira and attended Elmira District Secondary School, completing Grade 13. He played on the first two years of the Elmira Sugar Kings Jr. B Hockey Club and played for the Kingston Canadians Major Jr. A Hockey Club, now the Frontenacs in the OHL while attending Queen's University. He was drafted by the New York Rangers of the NHL.
Read more about Dr. Brubacher »
He was the player-coach for the Rheem Racers of the Dutch First League in Utrecht, Holland and played for Langenthal, Switzerland, in the Swiss League while helping with Minor Hockey Development in both countries.
An Active Family Life
Eric and his wife Ellie have two boys Andrew and Adam, who are both active hockey players. Andrew plays Senior AA in Ontario while working in the business marketing field. Adam plays professionally with the New York Islanders organization after graduating in May '20 with an MBA in Marketing and playing NCAA Division 1 Hockey at the Rochester Institute of Technology (RIT) in Rochester, New York. Dr. Brubacher was the Vice President of Player Development in the Woolwich Minor Hockey Association in Elmira for 15 years and coached in the organization during that time. He has truly enjoyed the relocation of his practice to Waterloo as a multi-practitioner clinic.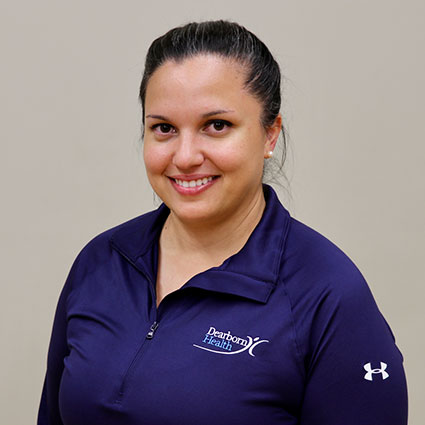 Dr. Katrina Protopapas, BSc, M.Kin, DC, PhD (candidate)
Dr. Protopapas holds a Bachelor of Science degree in Kinesiology from Wayne State University (2010) and graduated with Cum Laude honours. While attending Wayne State, she played NCAA Division I women's hockey on a full-ride athletic scholarship for four years, playing against many Olympian and elite female hockey players.
She then pursued her Doctor of Chiropractic degree at the Canadian Memorial Chiropractic College in Toronto and graduated with Clinical Honours in 2014.
Following chiropractic school, Dr. Protopapas went on to pursue her passion in research studying human movement pertaining to the foot with footwear, insoles and orthotics and graduated with her Masters of Kinesiology at Wilfrid Laurier University in 2017. Currently, she is attending Laurier for her PhD in Kinesiology, where her research is focused on understanding the mechanisms of how foot orthotics work and the effect they have on human movement.
Read more about Dr. Protopapas »
Dr. Protopapas joined our team in September 2017, where she provides advanced functional assessments of various musculoskeletal injuries using an evidence-based approach. Her goals are to help you to move better, restore your health to optimal functional levels, and improve athletic performance with movement-based therapies and rehabilitation programs.
Therapies Offered
Dr. Protopapas provides a wide variety of treatment options that include the following:
Soft-tissue therapy
Diversified adjustments
Medical acupuncture
Movement-based rehab
She has taken courses for Active Release Therapy® (ART®), Functional Range Release (FR), Concussion management, Functional Range Conditioning (FRC), and Integrated Patterning.
Enjoying an Active Lifestyle
In her free time, Dr. Protopapas likes to stay active through a wide variety sports, biking, running (5k, 10k, half-marathons) and continues to play hockey for the Waterloo Ravens.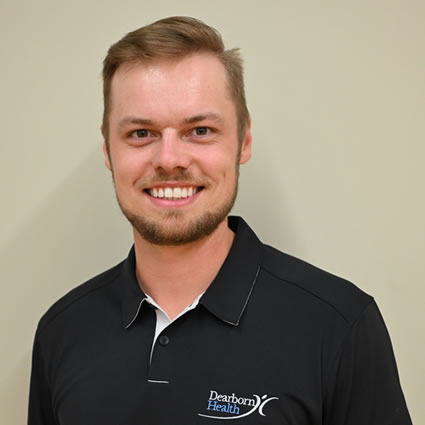 Dr. Grant Kernick, BSc, DC
Dr. Kernick always wanted to help people. He loved playing youth sports, and when he got injured, he was fortunate to receive great care, which led him to make chiropractic his choice.
Growing up in Elmira, just 10 minutes away, Dr. Kernick knew he wanted to practice in the area. He heard great things about Dearborn Health and the care they provided, so when a spot came open, he was thrilled to join the staff.
Education and Experiences
After finishing his studies at the University of Waterloo, Dr. Kernick enrolled in Logan University in St. Louis for his chiropractic degree. He chose Logan because of the broad spectrum of options available that allowed him to choose his own path.
With lots of great support, and doctors in the area to shadow, Dr. Kernick feels fortunate to have had many opportunities and great experiences during his time at Logan. While there were no "aha" moments, the reassurance he received along the way let him know he was on the right track.
Read more about Dr. Kernick »
Techniques
Dr. Kernick uses several techniques with his patients. These include
McKenzie Method® of Mechanical Diagnosis and Therapy® (MDT)—a system of assessment and management of spinal and extremity musculoskeletal disorders
Dynamic Neuromuscular Stabilization (DNS)—an assessment and treatment modality for spinal and extremity joint stabilization
Motion palpation—used to evaluate the movement of joints to identify restrictions
Selective Functional Movement Assessment (SFMA)—a movement based diagnostic system to systematically find the cause of pain
Blood Flow Restriction Training—a technique that combines low intensity training with partial blood flow occlusion that has the ability to produce similar results to high intensity training. Can be very effective for injury recovery, and performance enhancement for athletes.
Dr. Kernick also does a lot of exercise rehabilitation for sports injuries.
Away From the Office
Dr. Kernick stays active with golf, biking, running, walking, hockey, and pickleball. He also enjoys spending time with family and visiting local coffee shops.

Dearborn Health Chiropractors | (519) 884-4848